What's New
CIRCUIT BREAKER - A power-hour that merges strength and cardiovascular training with a blend of free weights, kettlebells, agility, and balance training.
KETTLEBELLS - This class will focus on balance, power, and core using the kettlebells for a total body workout.
PRIME TIME - A low impact class featuring resistance training, balance training, and core conditioning for the "prime time" adult aged group.
RECESS - Come be a kid again and play all the games you used to play at recess but with a fitness twist.
SHOCKWAVE - Dubbed by the media as "the most efficient total-body workout in the world," ShockWave is extreme cross-training at its best! This circuit challenge utilizes a specially designed WaterRower machine to provide short-burst, high-intensity, calorie-torching intervals along with functional strength and sculpting stations designed to target and chisel the legs, the core and the arms. You will find yourself working harder than you ever imagined because of the camaraderie, friendly team competition and motivation designed to push you to your max effort and provide extreme results!

This 30 minute circuit style class that features Indo-Row, Legs, Core, and Arm stations.
NEW EQUIPMENT

ARC TRAINER
allows legs to travel in a biomechanically correct path of motion. There is less stress on the knees and more activation of the glutes and hamstrings.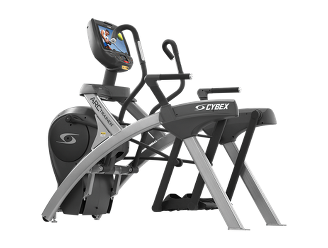 LATERAL X
adds muscle confusion with 10 varying planes of motion. Great for sports rehab and stability training, working the hips, thighs, and glutes. Check out a video here. http://www.youtube.com/watch?v=SzQHOcBrSso




E SPINNER
Includes Virtual Master Instructor that guides the rider with a state of the art touch screen.



STAIR MILLS
Imagine a never ending staircase that goes as far as you can envision or endure for the ultimate cardio experience.




HAMMER STRENGTH
Prone Leg Curl is a great way to target your hamstrings and glutes.




CALF RAISE
Sculpt and tone gastrocnemius and soles muscle group.




STRAIGHT BARS
Fixed and weighted barbells for your convenience. They are stacked on our new Barbell Rack starting from 20 to 110lbs.